The Champions League group stage concluded this week. Below, we dissect the biggest talking points from Matchday 6 in Europe's premier club competition.
The false Scottish revival
It was a cause for celebration. Celtic and Rangers were together in the Champions League group stage for the first time since 2007, giving the impression that, at long last, Scottish football was in decent health.
It's hard to imagine players with the quality of Henrik Larsson, Giovanni van Bronckhorst, or Paul Gascoigne gracing the country's top flight once again, but at least the Old Firm rivals are no longer employing poor footballer impersonators like Efe Ambrose. Instead, this is a league that has developed players like Kieran Tierney, Odsonne Edouard, Calvin Bassey, and Joe Aribo in recent years. James Maddison claims his loan spell with Aberdeen was the making of him.
Then, the Scottish optimism burst. Rangers finished their six-game jaunt with zero points and a minus-20 goal difference – the worst group stage record in Champions League history. They were too passive for large chunks of their woeful campaign, souring memories of last season's impassioned run to the Europa League final. Celtic fared slightly better with two draws and a minus-11 goal difference following Wednesday's 5-1 defeat to Real Madrid, finishing a considerable four points adrift of a Europa League place.
And to further compound the nation's misery, Hearts – the third and last Scottish team in Europe – are already eliminated from the third-tier Europa Conference League with one group match remaining.
Sadly, this season wasn't a grand declaration of Scottish clubs reclaiming their deserved place on Europe's biggest stage. It was rather a reminder of how far the Premiership's teams have fallen since the heady days around the turn of the century.
Developing young players may be the catalyst for the Scottish Premiership's eventual return to prominence, but it appears to be some way off right now.
Lewis shows City can harvest talent from within
Rico Lewis was given a thorough tactical examination in his first senior start for Manchester City. Following a first half in which he fulfilled the inverted full-back role, Pep Guardiola's swap of Jack Grealish for Rodri introduced a change of shape that made Lewis responsible for maintaining City's width as a more traditional right-back.
The 17-year-old passed each test with flying colors.
Lewis' confidence and maturity in Wednesday's 3-1 win over Sevilla was impressive. He'd instruct his teammates where to move possession or demand the ball for himself and invariably kept his team ticking from the middle of the park. And when he hugged the sideline in the second half, he neatly exchanged passes with the attackers and accurately timed his runs into the box.
He made history when he sprinted behind Alex Telles – the Sevilla left-back on loan from Manchester United – to meet Julian Alvarez's pass and smash the ball into the roof of the net.
This should be a sign of things to come.
Lewis – like Phil Foden, Cole Palmer, and Josh Wilson-Esbrand, who all played Wednesday – has been schooled in the Guardiola way through the academy. If youngsters making the jump don't comprehend the Spaniard's tactical expectations by now, they probably never will.
On the other hand, senior players who are recruited have to get up to speed. This was evident in the midweek fixture as Lewis earned a standing ovation and chants of "Rico" after his late substitution, while Sergio Gomez was withdrawn to little fanfare 15 minutes earlier. Gomez, unlike Lewis, is playing catch-up and has notably lacked the precision and positioning of his new colleagues since his summer transfer from Anderlecht.
In the future, rather than acquire someone like Gomez – undoubtedly a gamble given he'd only played a season at left-back before he joined – perhaps City should increasingly rely on surer bets from their burgeoning youth academy. Right now, it's difficult to see what Gomez can do that Wilson-Esbrand can't in the same position.
Mendes gives PSG balance
Neymar missed Paris Saint-Germain's 2-1 win over a spirited Juventus on Wednesday, and while his suspension was felt on the pitch – Lionel Messi and Kylian Mbappe were isolated and playing totally on their own at times – his absence wasn't the only glaring one when the opening whistle blew in Turin.
Nuno Mendes, slowly working his way back from a thigh injury, is being eased into the mix by Christophe Galtier. Juan Bernat started in his stead once again and spent much of Wednesday's entertaining contest pinned back in his own half trying to stymie Juan Cuadrado to varying degrees of success. While Achraf Hakimi burst ahead down the right flank, Bernat was unable to replicate that forward thrust on the opposite side.
Mendes replaced Bernat in the 68th minute. Roughly 60 seconds later, the Portuguese international was wheeling away in celebration after scoring the winning goal.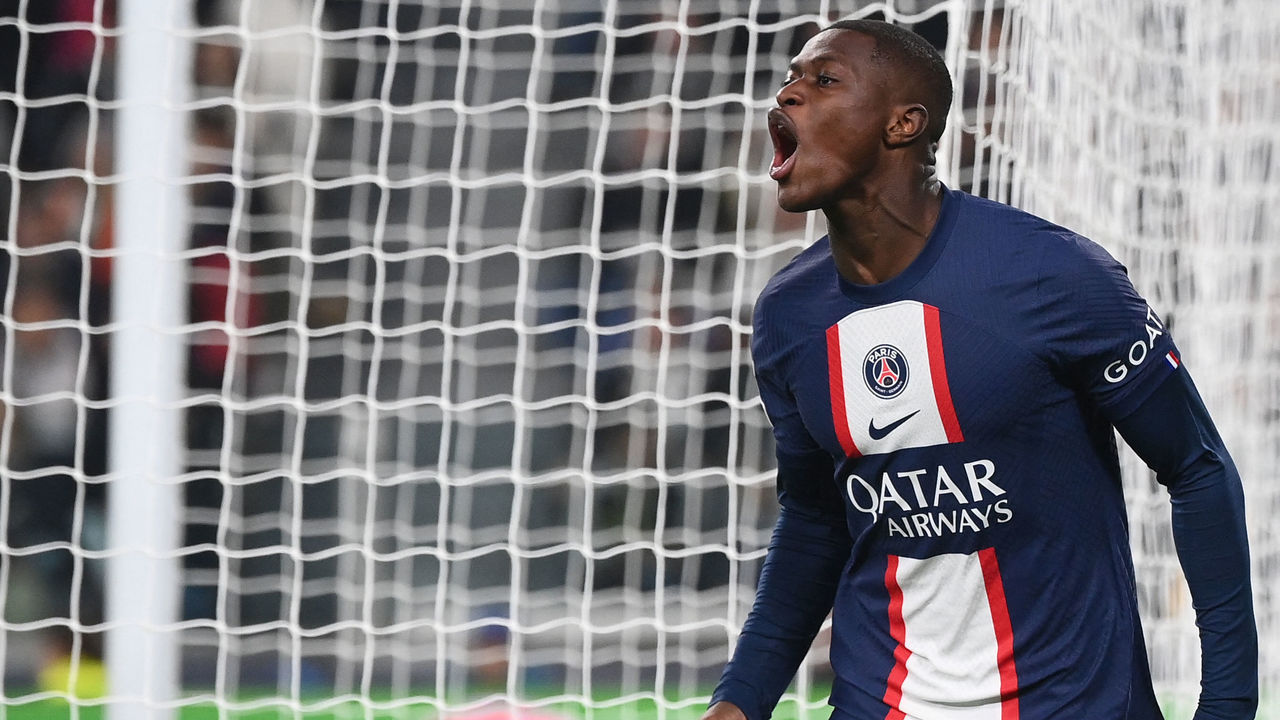 Mendes, 20, surged forward, left Cuadrado in his wake, and fizzed a perfect low shot into the bottom corner. In just one minute of action, he equaled the number of touches that Bernat had inside Juve's penalty area.
PSG have spent enormous – bordering on egregious – amounts of money on players under Qatari ownership. Aside from securing Mbappe, procuring the rising Portuguese star for roughly €40 million has unquestionably been one of their best moves. Mendes, already an explosive attacking left-back, is destined for superstardom.
Giroud always comes up clutch
Cometh the hour, cometh the man.
With a brace and two assists in Wednesday's 4-0 win over Red Bull Salzburg, Olivier Giroud fired AC Milan into the Champions League knockout stage for the first time since the 2013-14 season. He also showcased once again why he's still one of the best big-game players around.
Admittedly, Giroud has never been the most prolific goalscorer. But he has an incredible ability to show up when it matters most. Most of the goals he's scored in 2022 have come in so-called big matches, including three against Inter Milan, two against Napoli, and tallies against Roma and Lazio. He also scored twice in the 3-0 win over Sassuolo that clinched Milan's first Serie A title in 11 years.
Goals scored in Champions League and Serie A
| Date | Opponent | Competition | xG |
| --- | --- | --- | --- |
| Nov. 2 | vs. Red Bull Salzburg | Champions League | 0.19 |
| | vs. Red Bull Salzburg | Champions League | 0.21 |
| Oct. 25 | at Dinamo Zagreb | Champions League | 0.79 |
| Sept. 18 | vs. Napoli | Serie A | 0.60 |
| Sept. 14 | vs. Dinamo Zagreb | Champions League | 0.79 |
| Sept. 10 | at Sampdoria | Serie A | 0.79 |
| Sept. 3 | vs. Inter Milan | Serie A | 0.12 |
| Aug. 27 | vs. Bologna | Serie A | 0.32 |
| May 22 | at Sassuolo | Serie A | 0.43 |
| | at Sassuolo | Serie A | 0.24 |
| April 24 | at Lazio | Serie A | 0.38 |
| March 6 | at Napoli | Serie A | 0.30 |
| Feb. 5 | at Inter | Serie A | 0.05 |
| | at Inter | Serie A | 0.56 |
| Jan. 6 | vs. Roma | Serie A | 0.79 |
On Wednesday, Giroud played the role of provider and finisher, using his aerial prowess to beat defenders in the 18-yard box. But he didn't just stand around and wait for the ball to come to him. More than half of his touches came in the middle of the pitch, where he has become more and more of a difference-maker. Giroud often offers his teammates an outlet when they have to boot the ball forward, and that can happen quite a bit; opponents love to press Milan in the hopes they'll make a mistake.
The Rossoneri certainly owe their recent success to many players, including midfield maestro Ismael Bennacer, whose calmness on the ball buys space and time. But Giroud has been the most decisive.
RB Leipzig a dangerous underdog
For about a year, Leipzig looked less like the nerveless mavericks who took the Bundesliga and Champions League by storm and more like a club heaving under the weight of expectation. After bowing out to Rangers in the Europa League semifinals, Leipzig needed a 93rd-minute equalizer against relegated Bielefeld on the final day of the season just to book their place in the Champions League. The goodwill they may have otherwise gained from winning the DFB-Pokal later that May quickly vanished: By September, the club was looking for its third manager in 12 months.
Marco Rose, a native of Leipzig, came in and restored the swagger Germany's most villainous side seemed to have lost. Wednesday's 4-0 trouncing of Shakhtar Donetsk – which secured Leipzig's place in the Champions League round of 16 – was their eighth win in 10 matches. They haven't lost a game since mid-September.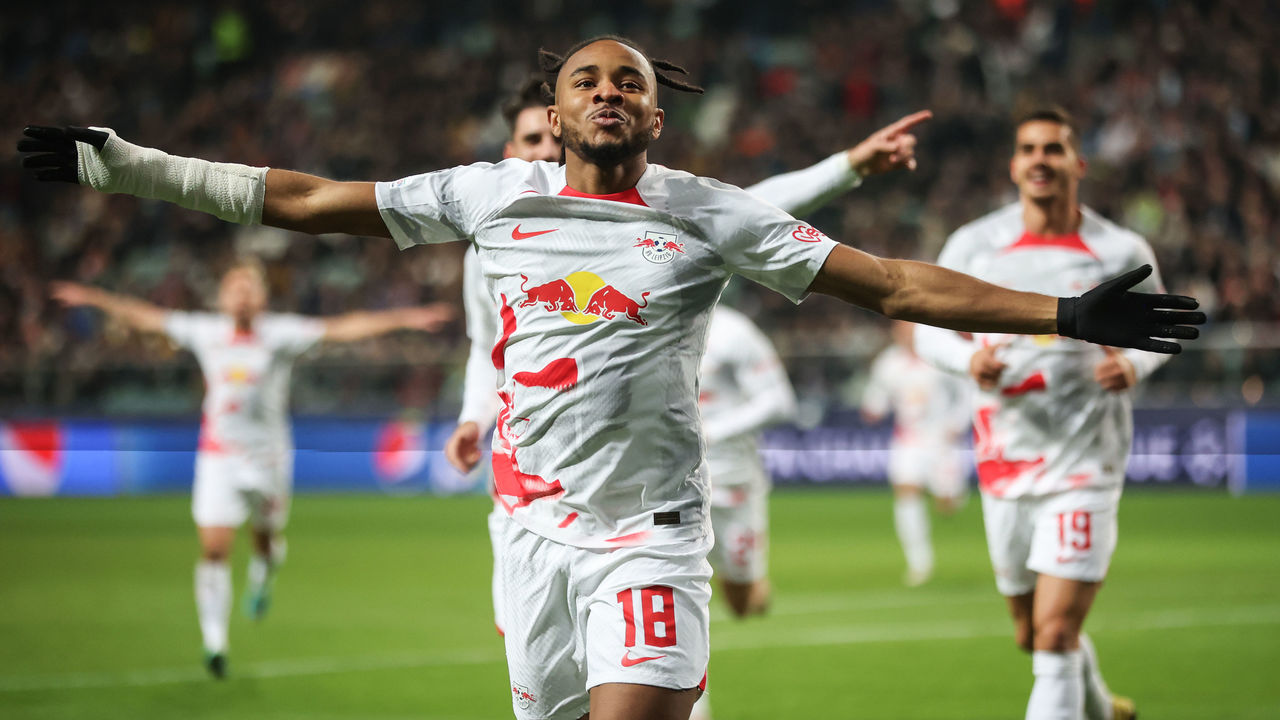 Their best players have found their rhythm as well. After going five matches without a goal or assist, Bundesliga MVP Christopher Nkunku has returned to form, scoring eight times in his last nine appearances. With Dominik Szoboszlai creating chances and Timo Werner cutting in from the left, it's easy to understand why Leipzig are suddenly banging in goals again.
Rose's team will now enter the Champions League round of 16 unseeded – and with tons of upset potential.
Don't sleep on the Europa League
Regardless of their stature or expectations, every club that missed out on the Champions League knockout stage will be bitter and disappointed. But the teams that finished third in their respective groups have a chance to salvage some pride, beef up their coffers with prize money and matchday revenue, and, perhaps, hoist a trophy at the end of the season via the Europa League.
It will be fascinating to see how seriously the likes of Barcelona, Juventus, Ajax, Sevilla, Shakhtar Donetsk, and others take the "second-tier" tournament. Each of them views European competition through a different lens. Reaching the latter stages of the Champions League was baked into Barcelona's financial planning for the year. Juve, stumbling in Serie A, might need to win the Europa League just to be in the Champions League next season. Sevilla's Europa League prowess is unrivaled. Shakhtar's fairy-tale run could yet continue to capture hearts, this time on Thursdays.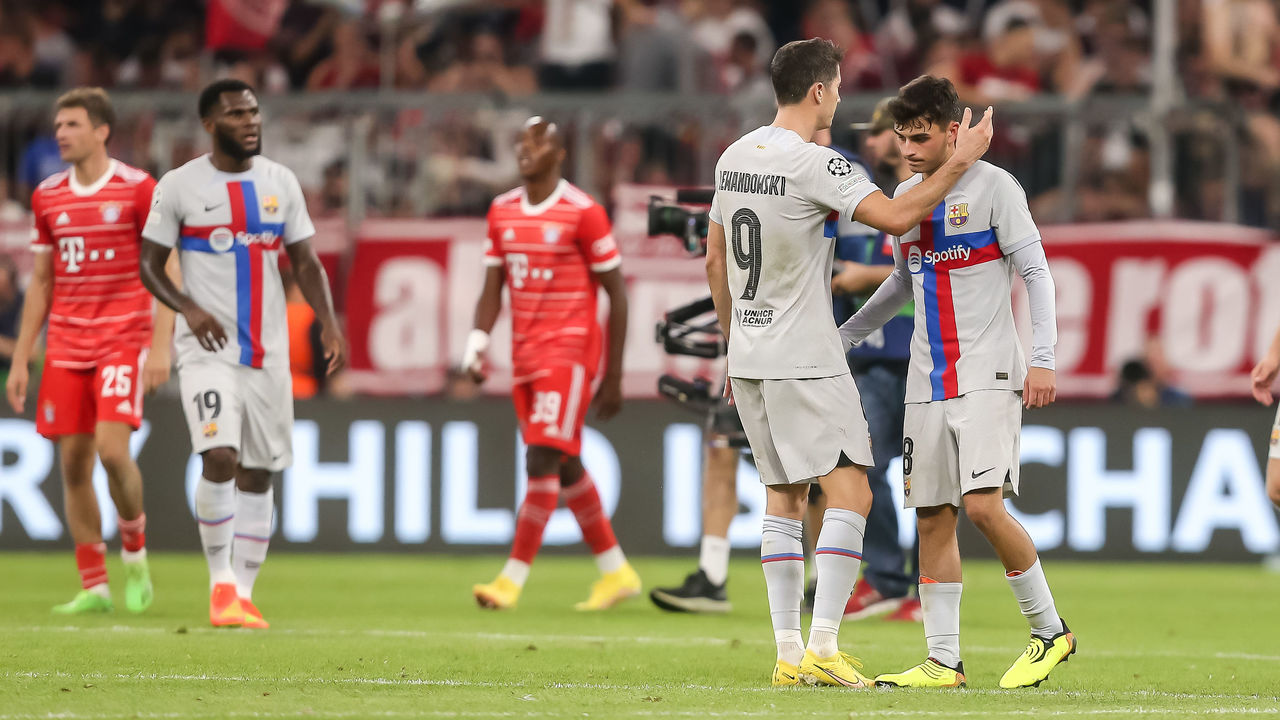 There's still much to play for, even if the prestige isn't quite the same; Juve manager Massimiliano Allegri, for example, called the Europa League a "beautiful" competition this week.
The teams dropping down a tier will also find a handful of storied clubs awaiting them. Manchester United, Arsenal, and PSV, to name a few, while the likes of Roma and AS Monaco could yet reach the knockout round, too.
The Europa League field will arguably be more impressive than ever before.
Here are the main talking points from Tuesday's matches …
Mignolet made the Club Brugge surprise possible
The departures of head coach Alfred Schreuder, playmaker Charles De Ketelaere, and towering frontman Bas Dost indicated Club Brugge was a team in transition. Many predicted the Belgian side would flounder in Group B. But the reality was very different. Club Brugge progressed with a six-point cushion in second place, while Atletico Madrid finished bottom following Tuesday's 0-0 draw at Bayer Leverkusen.
And no player deserves more credit for Club Brugge's feat than Simon Mignolet.
The 34-year-old added a spectacular swat at Patrik Schick's 54th-minute header to his acts of heroism during an excellent European campaign. He previously produced 12 saves across both fixtures against Atletico without conceding and has generally been a reassuring presence between the sticks for Carl Hoefkens' outfit.
He's helped Club Brugge recalibrate their expectations.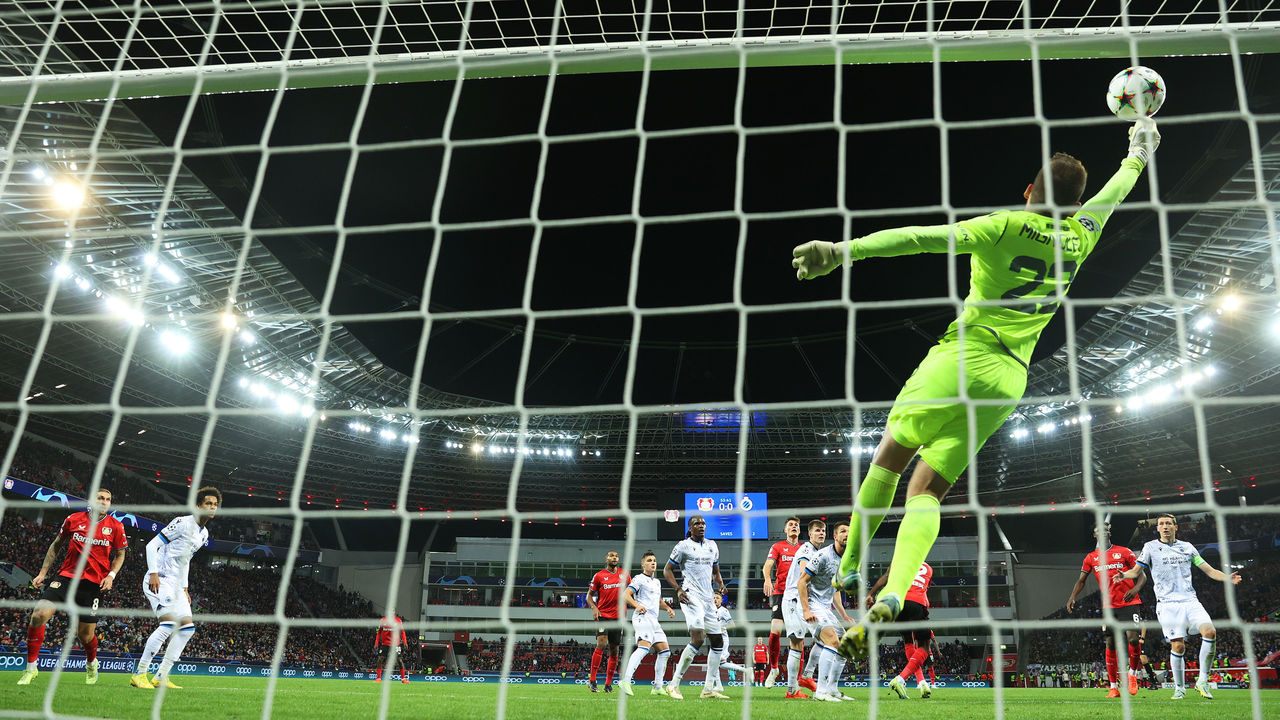 "I don't think we should be disappointed with the performance today," Mignolet said after Brugge finished second following the final round of fixtures in their quartet. "Porto have been on a good run and were probably the best in the group.
"But our five clean sheets still mean something. We are advancing to the next round, and that's the most important thing."
Mignolet appeared to cower under the bright lights of Anfield during his six-year stay with Liverpool. His performances were so troubling that fans regularly called for him to be dropped, even when there were unconvincing options in reserve, such as Brad Jones and Adam Bogdan. He returned to Belgium in 2019 with his tail between his legs.
He's unrecognizable as the stoic leader of Club Brugge, where he's been key to ensuring his side made a mockery of pre-tournament predictions with their straightforward path into the knockout rounds. Mignolet's resurgence is undoubtedly one of the standout stories of the Champions League season.
Spurs need to be so much better
There was a moment that summed up Tottenham Hotspur's lack of ambition in the first half.
Usually, a player with Heung-Min Son's counter-attacking ability lurks outside or on the edge of the box during an opponent's corner kick, waiting to retrieve a loose ball and burst upfield. Instead, the ball spilled to Son deep inside his own box, and he smashed it as far away as he could, allowing Marseille goalkeeper Pau Lopez to restart another attack for the hosts.
There wasn't much else Son could've done. The South Korean forward and his teammates were crammed into their own area.
And in the rare occasions Spurs ventured into Marseille's defensive third, they were ruinously negative and uninspired. It's disappointing to see attackers as gifted as Son and Harry Kane stifled by Antonio Conte's frustratingly unadventurous game plan.
Conte – who watched from the stands after his red card during Spurs' previous Champions League outing – and his backroom staff would likely gesture toward Group D's final standings if anyone questioned their approach to games. First place in such a competitive quartet is commendable, especially when the Italian's thin squad has recently dealt with costly injuries. A 2-1 win away at the raucous Stade Velodrome is always a fine result.
But playing like that in the competition's knockout rounds isn't sustainable. Spurs don't possess the defensive quality to hold out the best Champions League teams – Chancel Mbemba was given too much space to shape himself for his first-half header. And, unlike when ex-Arsenal left-back Sead Kolasinac somehow missed a golden opportunity at the back post in the 87th minute, they'll be punished in critical moments.
Being conservative might be the best way to manage this Tottenham team when it has so little creativity in midfield. Still, there has to be a way to pair deep defensive and midfield lines with more freedom for Son and Kane.
Right now, Spurs' best players are being wasted.
The Champions League roller coaster
Going into Tuesday's action, Marseille had permutations aplenty. The French club could finish in any four Group D spots, depending on their own result against Tottenham and the concurrent fixture between Eintracht Frankfurt and Sporting CP. The margin between a place in the Champions League knockout stage and being eliminated from European competition was slim. A wild ride was a distinct possibility.
They rode the roller coaster.
When Mbemba scored just before halftime to give Marseille a 1-0 lead, they were in line to advance. They dropped to third in the table when Spurs equalized early in the second stanza, out of the Champions League but still good enough to salvage a Europa League place. Then, following the heart-wrenching Kolasinac miss, Pierre-Emile Hojbjerg's 95th-minute rocket condemned Igor Tudor's team to fourth place. Just like that. So long, Europe.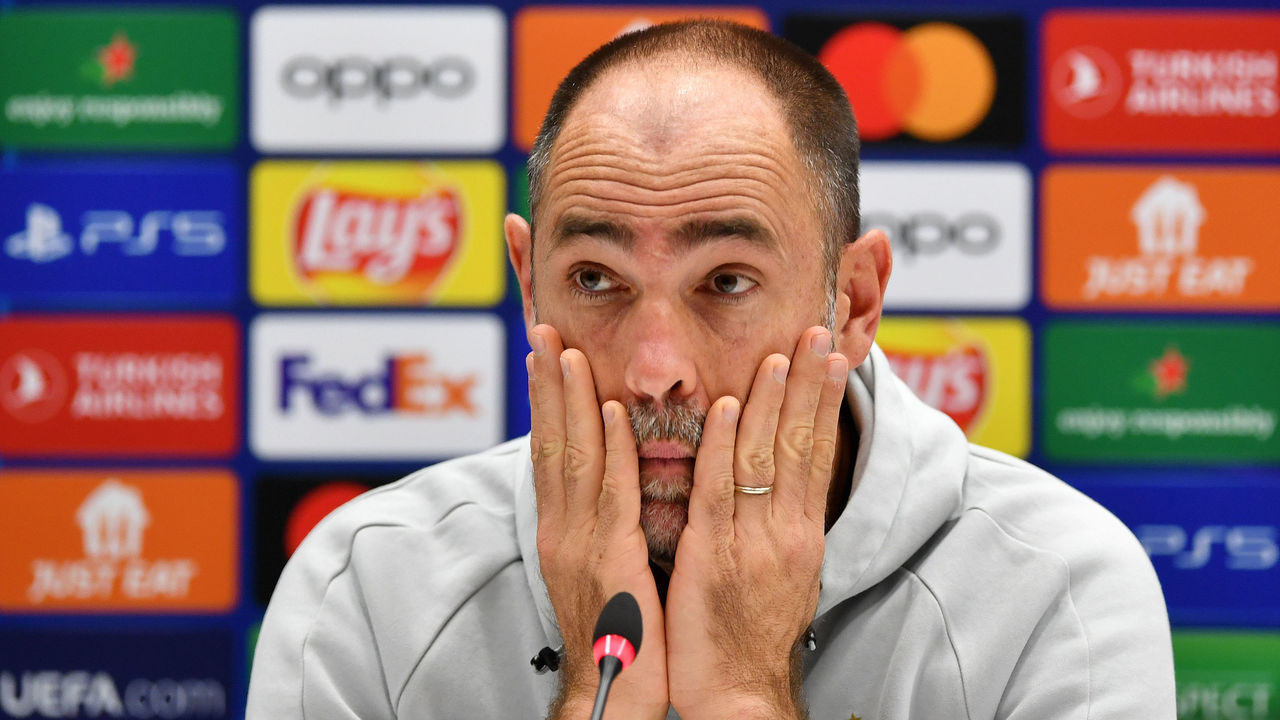 Sporting, too, fell victim to the wild emotional swings that only the Champions League can deliver. The Portuguese side won its first two group stage matches, only to finish third and miss the round of 16. As if to twist the knife, their bitter Portuguese rivals, FC Porto, lost the first two games of their Champions League campaign but rebounded emphatically to top Group B.
Admittedly, this tournament has flaws. The group stage has developed into a procession for some of the continent's wealthiest teams. But when it delivers, the drama remains unmatched.
Anguissa flourishing this season
Liverpool's struggles this season are down to a variety of factors – there's no singular solution for Jurgen Klopp. However, it's becoming increasingly clear that the club's deteriorating midfield is playing a huge role in the Reds' inability to sustain their recent high standards.
In Andre-Frank Zambo Anguissa, Liverpool got a firsthand look at someone capable of rectifying the issues plaguing Klopp's midfield. The Napoli standout, enjoying the best season of his career for Luciano Spalletti's high-flying side, has a unique blend of skills that would perfectly provide what the Merseyside outfit is currently missing.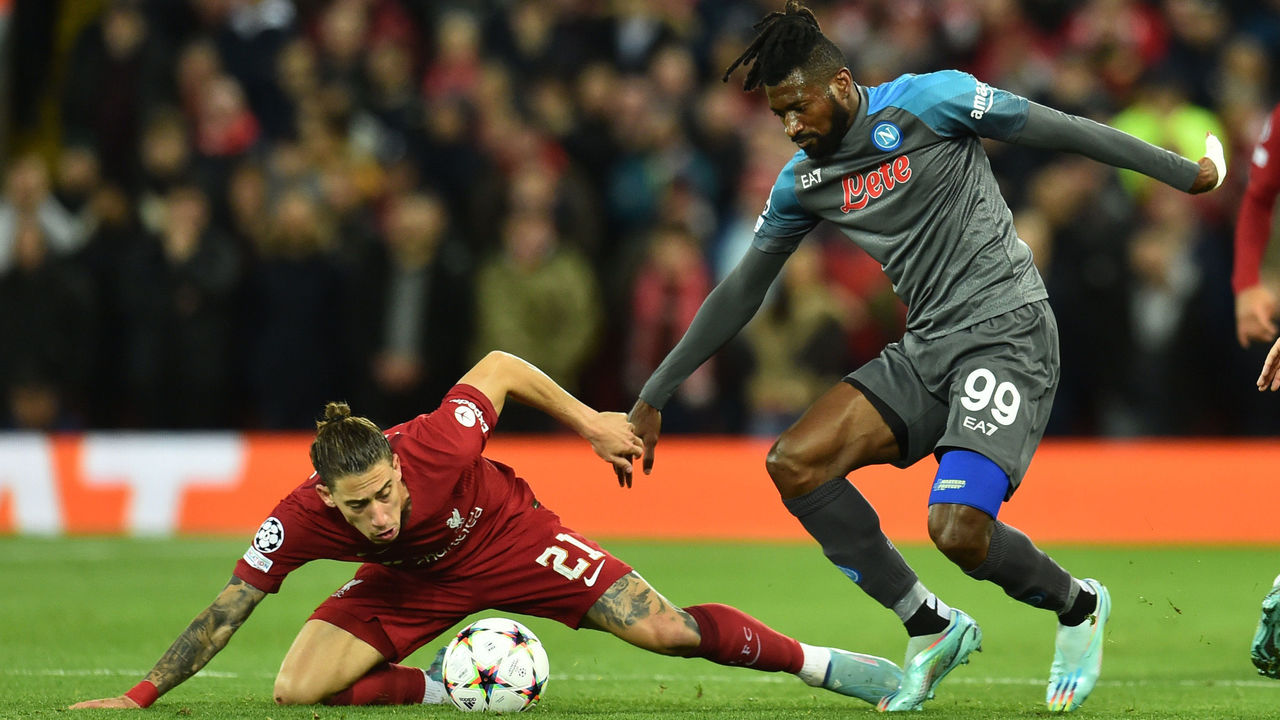 The flourishing Anguissa, 26, is press-resistant and good in tight areas like Thiago Alcantara but offers more box-to-box coverage. He's a feisty tackler like Fabinho but provides more attacking drive and scoring ability. He's dynamic in possession like Naby Keita but can actually stay fit. The Cameroonian is the type of do-it-all player who can impact the game in different ways, including those that don't show up on the stat sheet. In that way, he's not dissimilar from prime Georginio Wijnaldum, a player who would help Liverpool immensely right now.
Even in a match that Napoli lost – their first defeat of the season in all competitions – Anguissa caught the eye at Anfield. The signs were there at Fulham, despite the team around him floundering. Now, in the right system, it's all coming together.
Other Articles