Alexis Mac Allister is familiar with the script. We all are.
"We've got the best player in the world; that's the only advantage we've got," the Argentina midfielder joked to upsfootball.
Naturally, Lionel Messi will dominate the Albiceleste's journey through the World Cup. That's how it worked when Argentina won the Copa America in 2021, ending the men's 28-year drought in major competitions. It's also how it worked for the failures that preceded that triumph.
It's his team. He towers over the wins and buckles under the losses.
Messi's sparkle and prestige don't fade immediately for new graduates when they enter the Argentina camp. Mac Allister remembers "shaking and sweating" when he first met Messi. But, over time, Messi's quietness and friendliness make him seem more of a teammate than a talisman.
And that gradual change is now reflected in Lionel Scaloni's outfit. Following a series of adjustments over the head coach's four-year reign, Argentina isn't so reliant on Messi's stardust anymore. He will dominate the narrative, but he won't necessarily dictate how his nation plays in Qatar.
Trial and error
The 2018 World Cup felt like a missed opportunity. Many of Argentina's players were at their peak or already in decline, and Jorge Sampaoli's high defensive line and determined pressing simply didn't work. The Argentinians didn't have the legs for it.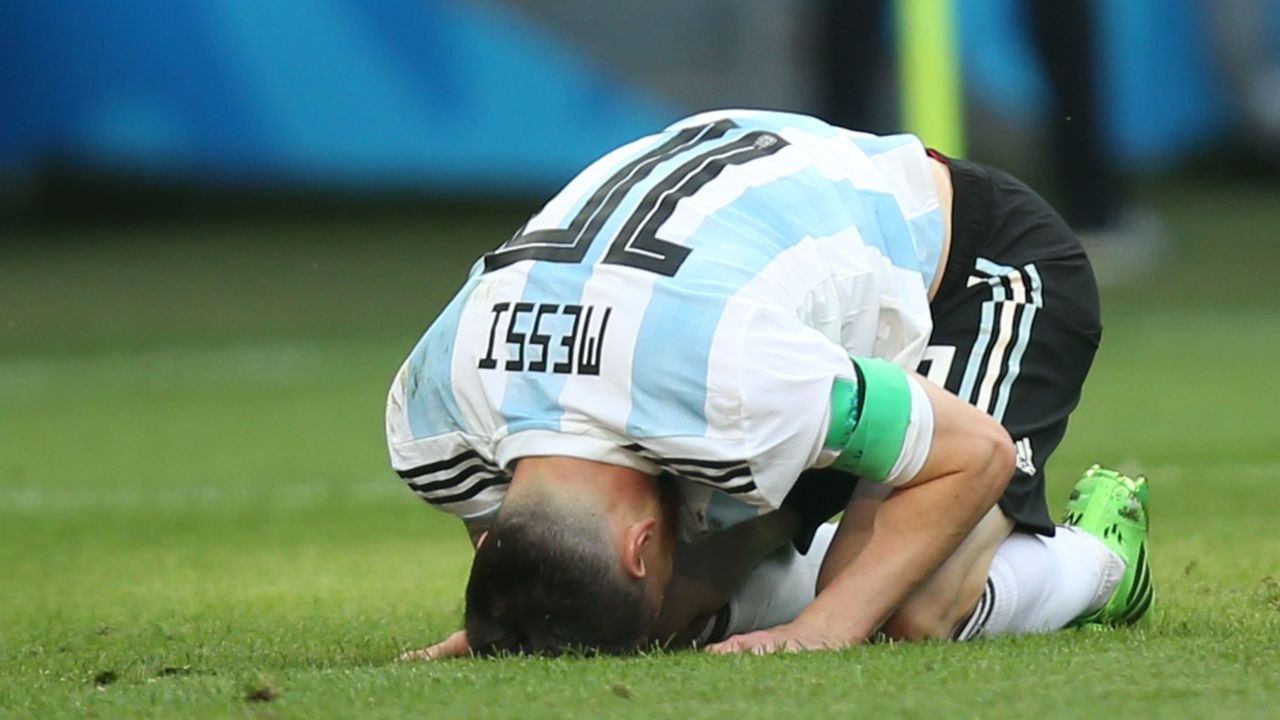 Messi considered international retirement following a second straight Copa America final defeat to Chile in 2016, and fears that he was calling it quits rose once more when he missed three consecutive Argentina camps after its round of 16 exit in Russia. As a vocal critic of the Argentine Football Association (AFA) in the past, Messi must have lacked confidence in the executives to return the Albiceleste atop the international game.
Even the appointment of Scaloni as Sampaoli's successor, initially as a caretaker manager, was indicative of the AFA's disarray. He'd never overseen a senior side and was a member of the backroom staff during Sampaoli's failed regime. The main appeal of Scaloni was that he was inexpensive after his old boss' huge payout.
However, the AFA's frugality may have worked in Scaloni's favor. He had time. He made the same mistakes as previous coaches in catering too much to Messi's otherworldly ability; pairing the superstar and his friend Sergio Aguero in attack at the 2019 Copa America made Argentina too ponderous out of possession and susceptible in transition. But through trial and error, Scaloni worked things out.
Emiliano Martinez was the ninth goalkeeper to feature for Scaloni in the coach's 26th match at the helm, but Aston Villa's No. 1 finally brought stability to the national team with just five goals conceded in 19 caps. Cristian Romero and Lisandro Martinez were ushered into the senior setup and promise to solve Argentina's long-standing issues at center-back. The team steadily became less direct and appreciated the ball more, while a three-man midfield gave it a tougher nucleus.
The squad was refreshed after the disaster in Russia. Messi was invested after previously appearing to cower under the international spotlight. Argentina now rivals Brazil as South America's dominant force, logging similar figures for possession and shots per game as both teams went unbeaten during their World Cup qualification campaigns.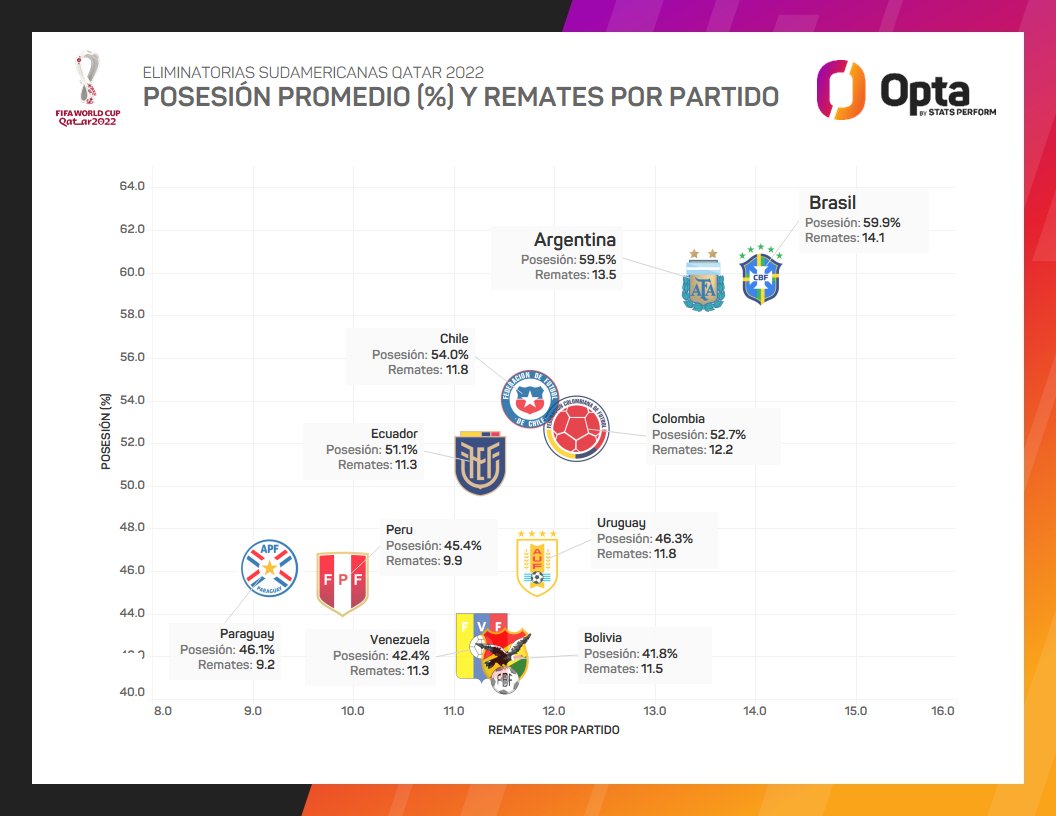 (Courtesy: @OptaJavier)
"How he managed the group was very important," Mac Allister said of Scaloni. "Many players like (Gonzalo) Higuain, (Javier) Mascherano – a lot of players left the national team, and he brought young players with very good quality and the right mentality to play in the Argentina national team.
"So, I think now we are like a family, a very good group, and that is thanks to Scaloni."
'We took a leap'
Of course, the greatest endorsement of Scaloni's methods came at the Maracana Stadium in July 2021. Argentina's group-stage games were tight, and Martinez saved three penalties in a semifinal shootout against Colombia, but the final result was all that mattered. Victory over Brazil in Rio de Janeiro meant the Albiceleste won the Copa America for the first time since 1993.
Messi later said the triumph gave him "peace of mind" after he belatedly clinched his first major title in international football. He was also effusive in his praise for the man who picked up the pieces.
"Scaloni is one of us; he has great merit," Messi said. "It was he who selected the national team, the one who believed, the one who took charge at a difficult moment.
"He gave us confidence, he was bringing in new people, he always knew what he wanted, and we grew. From the Copa America 2019, we took a leap."
Messi at the 2021 Copa America
| Stat | Total | Tournament rank |
| --- | --- | --- |
| Goals | 4 | Joint 1st |
| Assists | 5 | 1st |
| Chances created | 21 | Joint 1st |
| Shots | 28 | 1st |
| Shots on target | 11 | 1st |
Scaloni shaped his team in a 4-4-2 for the cathartic success in Rio, but he's since prominently leaned on two formations that ensure Argentina isn't top-heavy like in the past. The 4-3-3 setup is good for protection against counterattacks, while the 4-2-3-1 is designed to allow Argentina's exciting contingent of frontmen to thrive against lesser opponents.
Argentina's approach used to focus so heavily on Messi that it exposed him. The strengths of the country's finest asset regularly appeared, but so did his weaknesses. Now, Lautaro Martinez and Angel Di Maria regularly cover much of the pressing work in attack, allowing Messi to roam into space for transitions. The balance of Scaloni's side suits the veteran.
The head coach has become so popular in Argentina that the squad has been nicknamed the Scaloneta. Scaloni's creation has gone 36 games unbeaten and will be expected to surpass Italy's record of 37 during the group stage in Qatar. Nevertheless, skeptics will point out that Argentina has only faced five non-South American sides in that time: Germany (ranked 11th), Jamaica (64th), the United Arab Emirates (70th), Honduras (80th), and Estonia (109th).
This is undoubtedly the truest test of Scaloni's tenure, but success or failure should no longer predominantly weigh on Messi's shoulders. Argentina is a team.
<
The post Argentina has Messi – but is that enough to be a World Cup contender? appeared first on UpsFootball.
Other Articles