theScore examines the most important developments and biggest talking points from Saturday's slate of action in England's top flight.
Time for Martinelli to step up
At just 21, Bukayo Saka is the main man for Arsenal. The winger underlined his brilliance with a marvelous swerving effort from outside the box, helping his side earn a 2-1 victory over Nottingham Forest in their season opener.
There are other Arsenal players who demand almost equal attention to Saka. Captain Martin Odegaard leads by example and creates chances with a level of composure that may be unmatched in the division. The gargantuan fee that the club paid for Declan Rice means the English midfielder's performances will be closely examined over the coming months. Center-back William Saliba earned rave reviews for his performances last term.
Yet it seems Gabriel Martinelli is on a rung below those aforementioned players. If his display against Forest is a sign of what's to come this season, he won't be for much longer.
The Brazilian's most highlight-worthy moment was the assist for Eddie Nketiah's goal. He collected a loose ball on the edge of the final third and scampered toward the byline despite the close presence of Danilo and Serge Aurier. His pace and positivity weren't enough to evade the duo, so the 22-year-old dipped into his considerable repertoire of tricks with a slick pirouette and backheel to tee up Nketiah. It was audacious and, most importantly, effective.
For Gunners manager Mikel Arteta, that might not be the most pleasing aspect of Martinelli's outing. He works exceptionally hard for his team, almost matching his attacking graft with his willingness to track back. He spared Jurrien Timber's blushes after a weak pass when he hared after Aurier – who isn't a sluggish full-back – to reclaim possession in added time at the end of the first half.
Obviously, Martinelli will largely be judged on his attacking output. He's scored 26 Premier League goals as he enters his fifth season in Arsenal's first team – but hopefully, his 15-goal haul in the previous top-flight campaign indicates he'll now be more consistent in front of the onion bag. Meanwhile, his assists tally of 13 over 94 Premier League appearances must improve.
This can be the season where Martinelli comes of age. The competition for minutes to the left of Arsenal's attack should spur him on.
Brighton are more than Caicedo
Brighton & Hove Albion will never be about one player. Remove Moises Caicedo from an equation that's already missing Alexis Mac Allister, and you still get the same progressive football that catapulted the club into the upper echelons of the Premier League.
"We lost Mac Allister, we lost (Levi) Colwill, maybe we lose Caicedo," head coach Roberto De Zerbi said Friday. "I think the big clubs can buy the players, but they can't buy our soul and our spirit. That's not on the market."
It showed during Saturday's 4-1 win over Luton Town. While Premier League newcomers Luton defended admirably before finally conceding the opening goal in the 36th minute, Brighton played with enough swagger and confidence to eventually overwhelm their opponents. That's because they still have players who can execute De Zerbi's style of play. Losing Mac Allister and Caicedo hurts a lot less when you have a workhorse in Pascal Gross willing to cover all areas of the pitch, and Mahmoud Dahoud, one of Brighton's summer signings, will only get better with time. Brighton's tactical nous and creativity aren't following Mac Allister and Caicedo out the door.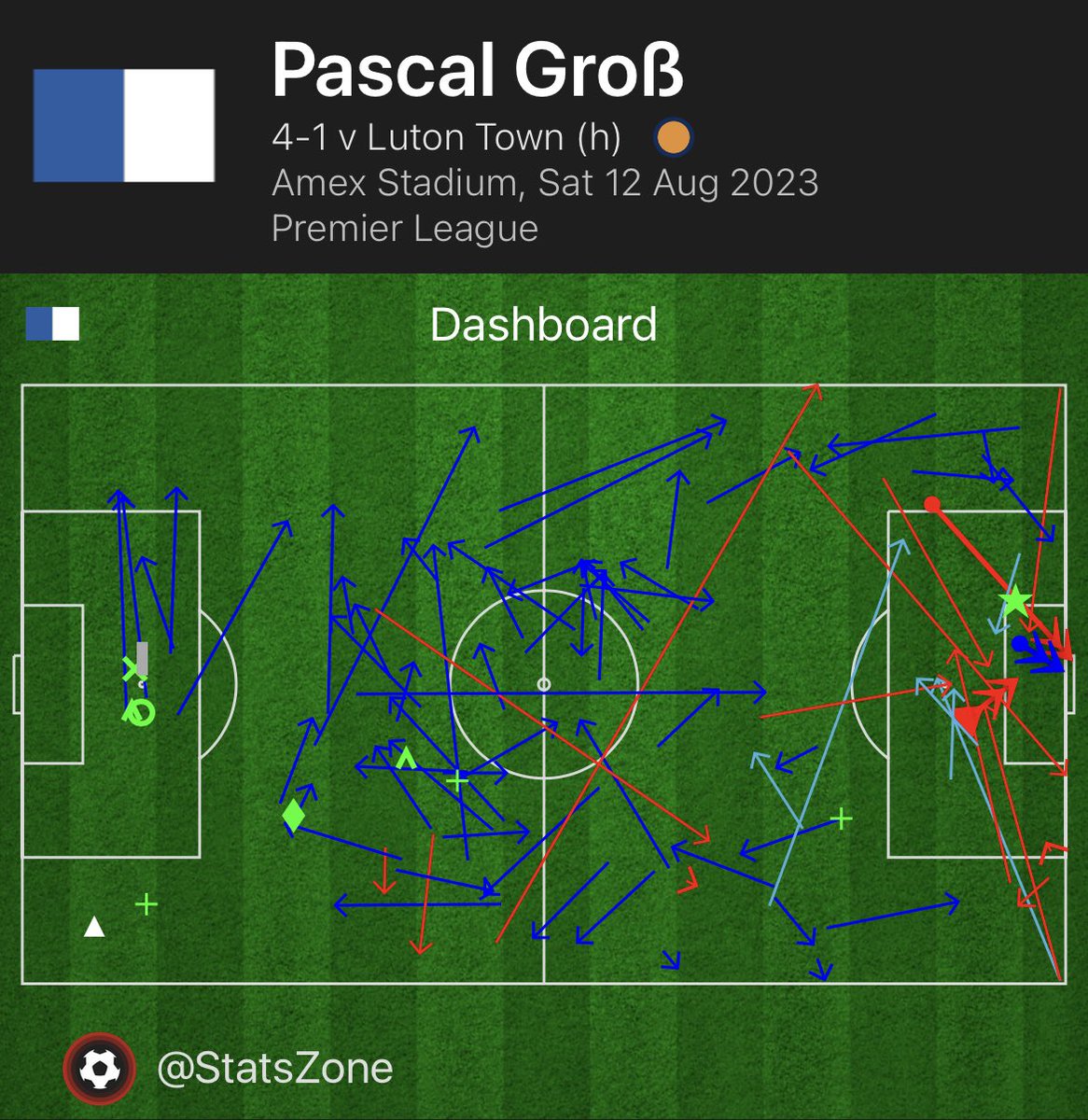 (Courtesy: Stats Zone)
Creating chances has never been the issue anyway. Converting those chances into goals remains the obstacle. Even when taking into account the level of opposition – on the basis of Saturday's evidence, Luton are in for a very long season – Brighton showed a clinical edge that neither Caicedo nor Mac Allister could offer. March remains De Zerbi's most influential player off the right wing, and Evan Ferguson seems to score every time he comes off the bench.
Brighton's success relies less on a player's individual ability and more so on the player's ability to adapt to a system. De Zerbi's entire squad is full of system players, and youngsters who aspire to play for a bigger club know that that very system can bring them personal success. It works for everyone, making one player's departure another's opportunity.
Tonali becomes instant fan favorite
There was plenty to celebrate during Newcastle United's swashbuckling 5-1 win over Aston Villa: Alexander Isak scored his third brace since joining the club in January, Anthony Gordon showed the playmaking ability that made him worth a reported £45 million, and Harvey Barnes polished off the victory with a debut goal.
But Sandro Tonali had arguably the most lasting impact on Newcastle's massive opening-day win. His goal six minutes into the match set the tone for what should be an extended love affair between him and the adoring fans at St. James' Park.
We saw everything Tonali has to offer in the flying volley that set off Newcastle's rout of Villa: the commitment to beat his man, the confidence to throw his body at the ball, and, most importantly, the spirit to win at all costs. The crowd chanted Tonali's name before he even scored that goal. The Italian showed not just the class to pick out a pass but the fire to nick the ball off an opponent and make Villa work hard to enter the final third. Though commentators immediately saw Andrea Pirlo in his game, he showed far more of Gennaro Gattuso on this day.
Head coach Eddie Howe must've seen Tonali's blend of characteristics during his three years at AC Milan, and he must've known the 23-year-old would eat up the pitch in the Premier League. The pace of the game was never going to be a problem for Tonali. He was always more likely to excel in a league with much more open play than he encountered within the tactical confines of Serie A.
If Saturday's match is anything to go by, Tonali will continue to have the license to press forward and run into open channels. He did that exceptionally well against Villa and put himself in a position to score a hat-trick. Howe now has two of the most explosive No. 8s in England in Tonali and Joelinton, and if he continues to encourage them to make runs into the area, Newcastle may have more five-goal performances in their future.
Quick free-kicks
Keep an eye on Brighton's Adingra
Brighton have an incredible knack for finding replacements before they're even needed. When Leandro Trossard left for Arsenal in the January transfer window, Kaoru Mitoma had already established himself as his successor on the left wing. When Mac Allister seemed set to leave, 18-year-old Facundo Buonanotte emerged as a potential candidate to take his minutes in midfield. So, whenever Solly March decides to leave – because more and more clubs seem to be taking notice of his superior scoring record under De Zerbi – it'll be time for winger Simon Adingra to step up. Signed from Nordsjaelland last year for a reported €8 million, Adingra scored just 11 minutes into his Premier League debut Saturday. It won't be the last time we see him.
Bizarre behavior from Guaita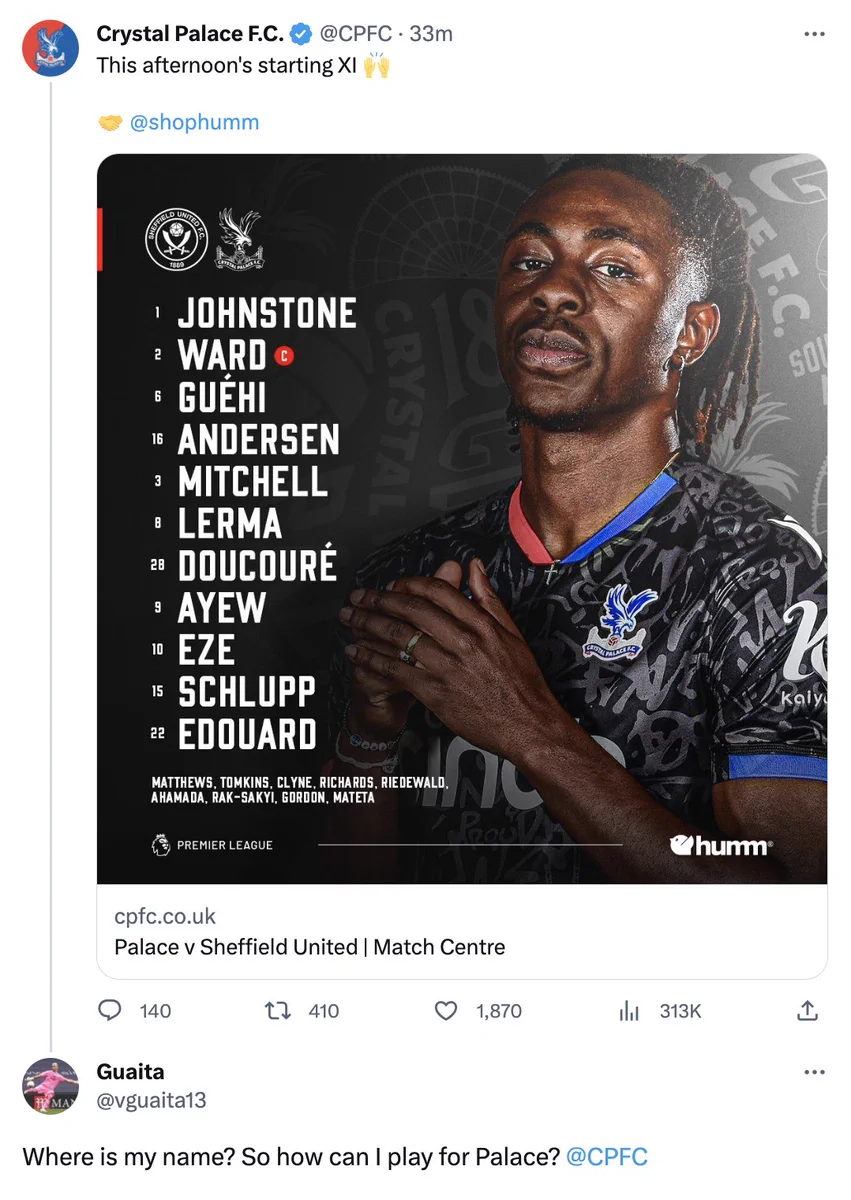 (Courtesy: @TheSportsman)
What is Vicente Guaita trying to achieve? The goalkeeper already seemed on his way out of Crystal Palace after Roy Hodgson said he was refusing to play preseason matches due to losing his starting place near the end of last season. So it was no surprise when the Spaniard was left off the teamsheet for Saturday's 1-0 triumph at Sheffield United. Well, no surprise to everyone except Guaita, who replied to the club's lineup post with a peculiar and (perhaps unintentionally) cryptic tweet. Clearly, the shot-stopper isn't the kind of player who simply knuckles down and tries to win back his spot in the XI.
Raiser Ruddock
After playing Sunday League football and subsequently earning £50 per week with sixth-tier Boreham Wood, Pelly Ruddock Mpanzu's huge leap to West Ham United didn't work out. So, when he made his Luton Town debut in front of 621 fans in an FA Trophy match at Staines Town, it was like he was starting all over again. Less than 10 years later, Mpanzu is the first player to represent the same club in the top five divisions of English football after starting for Luton in their loss at Brighton & Hove Albion. It's an incredible achievement and proof that it can pay off to play the long game.
Stat of the day
Like horses at the gate, Sandro Tonali and Moussa Diaby couldn't wait to get started in the Premier League.
Tweet of the day
Unless he's changed his name to "FC Bayern Munchen," Harry Kane misses the target with his name-point gesture.
Other Articles