Real Madrid couldn't get the ball out of their own end, facing 10 shots in the first half alone. Thibaut Courtois made a series of acrobatic saves just to keep the match goalless.
And yet, Madrid were precisely where they wanted to be.
Liverpool outplayed their rivals for large parts of Saturday's Champions League final, but outplaying Madrid has rarely been enough this season. Los Blancos beat Paris Saint-Germain, Chelsea, and Manchester City despite playing, at most, an hour of dominant football across the entire knockout stage. It stood to reason they'd prove just as indestructible against Liverpool.
Carlo Ancelotti's side reached the showpiece event at the Stade de France playing possum. Like a boxer absorbing 11 rounds of brutality, it lived long enough to land the knockout punch in the 12th and final stanza. Madrid chose to suffer for long stretches, knowing they could manage games on the back foot until they could carve out moments, however transient, of their own.
Ancelotti needed Courtois to stand tall, and he did, making 55 saves in all to shatter the single-season Champions League record. He needed Dani Carvajal to clear the zone, as he did before Luis Diaz could get his head to the ball in the second half. He needed Casemiro to win fouls – even when he looked like the culprit. He needed the backbone to bend but not break.
Then, in short, concentrated bursts, Madrid's stars did their thing, just as Karim Benzema did when he scored three goals in 21 minutes to eliminate PSG and as Rodrygo did when came off the bench to score twice after the 90th minute against City. This time, it was Vinicius Junior who converted one of Madrid's only two shots on target Saturday to win Los Blancos their 14th European title.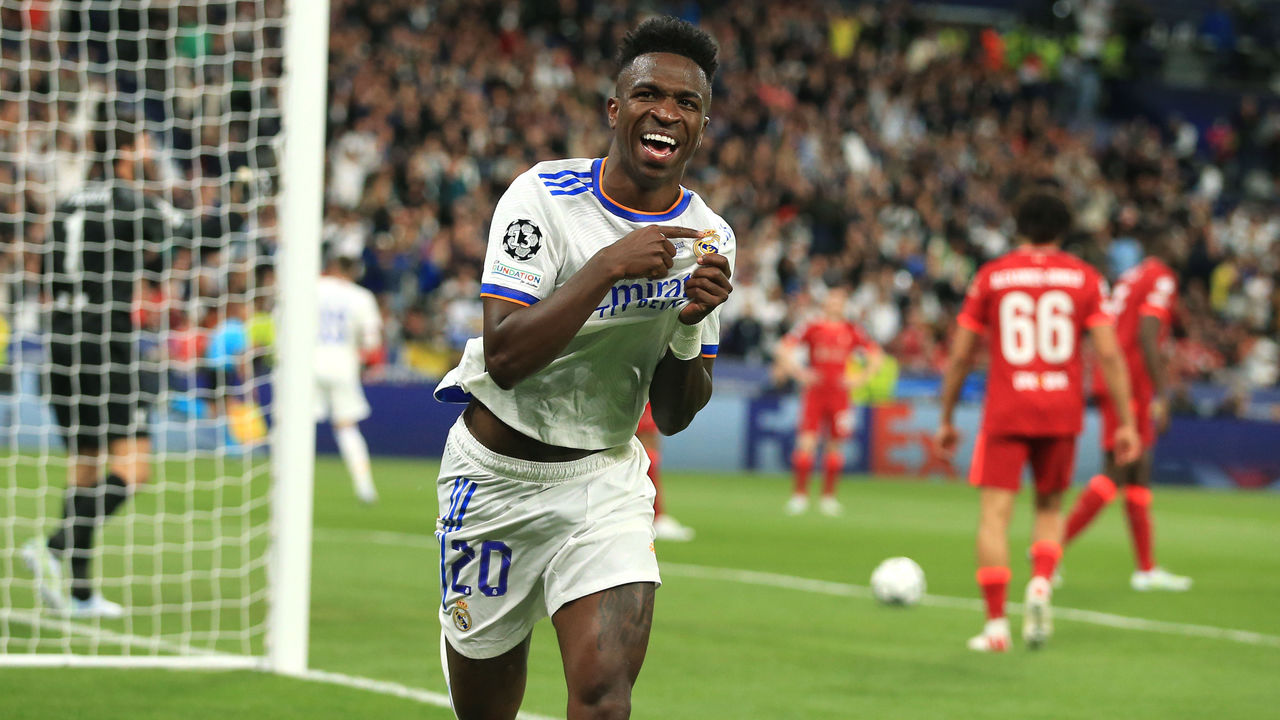 Madrid's reactive approach paid dividends. It allowed them to conserve energy through the season and enter the final run of fixtures as fresh as possible. Pressing high, as some of the best teams in Europe love to do, would've done more harm than good. Going full-tilt was simply not an option for this aging unit. A game of instinct, intellect, and intuition better suited this collection of stalwarts.
It also helped to be crowned La Liga champions by the end of April. Madrid went the last three weeks of the campaign without a game of significance. They took in the Iberian sun while Liverpool slogged through four emotionally charged fixtures in 12 days, including a final that went to penalties. The Reds couldn't possibly maintain the same intensity in their 63rd match of the season that they had even a month ago.
So Madrid knew they'd get an opportunity to punish Liverpool when they inevitably dropped off in the second half.
Their chance came in the last 15 minutes of the first half and the opening 15 minutes of the second half. Madrid controlled 60% possession in that half-hour block, wresting control from Liverpool as they sought a breather before the interval and then again as they jockeyed to reset the tempo at the start of the second. As Luka Modric stretched Liverpool's backline, sending one long ball after another, the Merseyside outfit finally cracked. Vinicius caught Trent Alexander-Arnold napping at the back post, and that was it.
Just like that, Madrid's window of opportunity slammed shut.
Madrid captured another fleeting moment, seizing it with both hands as it threatened to hurtle past them. They created precious little after that. Liverpool finished the game strong, forcing another four saves out of Courtois in the final 30 minutes, but found Madrid in too comfortable of a position to unnerve them.
Jurgen Klopp can still feel proud of his team's performance in Paris. Liverpool didn't do anything wrong. They just paid the price for relentlessly pursuing a historic quadruple. Playing so many games – especially at the business end of the season – worked against them. Ultimately, they lost to a team that preys on any sign of weakness, and it showed up, ever so briefly, in the middle of a European final.
Madrid, on the other hand, demonstrated a different and equally satisfying way to win. They didn't scheme their way to Paris or discover a new tactical blueprint for success. Ancelotti simply let his players show their quality. He put power back in the hands of the men on the pitch.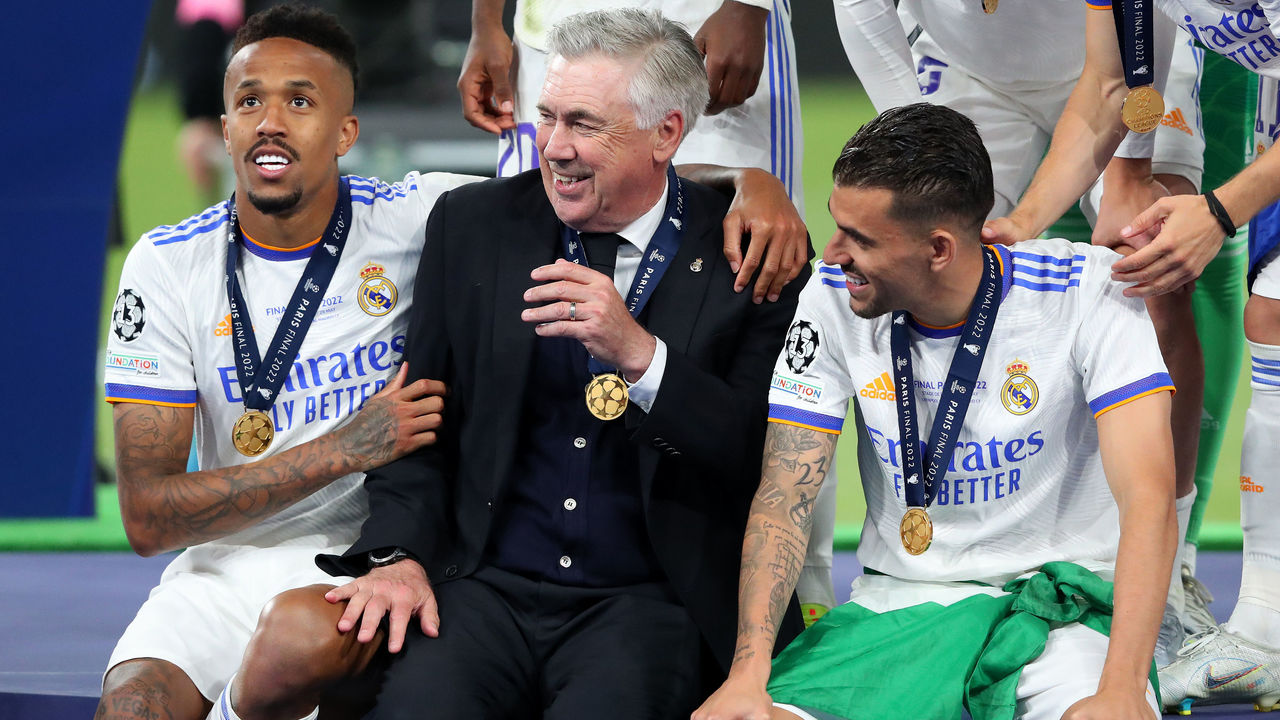 Ancelotti didn't say anything particularly inspiring. In fact, he told reporters he was the "most nervous person" in Madrid's dressing room before kickoff.
"I went to my room so the players couldn't see me," he added.
That's because he didn't have to say anything. The players have been there and done that. Ancelotti decided to step aside and relieve his team of any tactical burden, and it worked wonders.
"The players never doubted at any minute they wouldn't win this competition," the manager said.
Ancelotti's hands-off approach is so refreshing, unusual, and at odds with today's style of management. But it's precisely this level of self-awareness – to know when to speak up and when to hide from view – that enables Madrid to do special things. An accomplished side like this doesn't need a pep talk or lesson on the tactics board before big occasions.
"When I saw all those players – Karim, Carvajal, Modric – playing cards a few hours before the game, I thought, 'Wow. Well, there's calmness anyway,'" substitute Dani Ceballos told The Guardian's Sid Lowe.
It's unbelievable to think a team can have such confidence. Then again, Madrid are no ordinary club. It's why we'll never see another team replicate this run. Unless, of course, it's Madrid themselves that do it all over again.
<
The post Stuff of legend: Why Real Madrid's Champions League run will never be replicated appeared first on UpsFootball.
Other Articles