Didier Deschamps kept every controversy at arm's length in the months leading up to the World Cup.
He knew Kylian Mbappe was at odds with the French Football Federation over the use of his image and boycotting photoshoots with national team sponsors. He knew Paul Pogba's brother had attempted to extort him out of millions of dollars and bristled at the suggestion that Pogba paid a witch doctor to put a hex on Mbappe. He refused to comment on allegations that FFF president Noel Le Graet sexually harassed female employees within the federation, and he did everything to steer clear of criticism of Qatar.
"There is a climate out there that is not serene and calm," Deschamps told The Athletic's Amy Lawrence in November, "but all is well."
Every story threatened to destabilize the French national team ahead of its much-anticipated title defense. France embarrassed itself in 2002 when it became the first defending champion to fall in the group stage, and it seemed primed to repeat history. But the 54-year-old head coach skillfully deflected the negativity around his players, ensuring they flew to Qatar without the toxicity that weighed them down at previous tournaments.
But the blows hit harder. Pogba's knee injury required surgery. N'Golo Kante's hamstring gave way. Eduardo Camavinga ended Christopher Nkunku's World Cup with a flying challenge in training. Karim Benzema suffered his own setback and left for an early vacation. Was it all a sick joke? When Lucas Hernandez tore his ACL within 15 minutes of France's first game at the World Cup, it sure seemed like it.
Other teams may have succumbed to the torrent of bad news. Not France. This group is within reach of winning back-to-back World Cup titles because it stood by one another when it was easier to point blame.
"There is a collective strength that has been present since the beginning," Deschamps said after France held off England's credible comeback attempt in the quarterfinals. "Quality is not enough in this group. There is also the mentality, and perhaps also, to a certain extent, experience."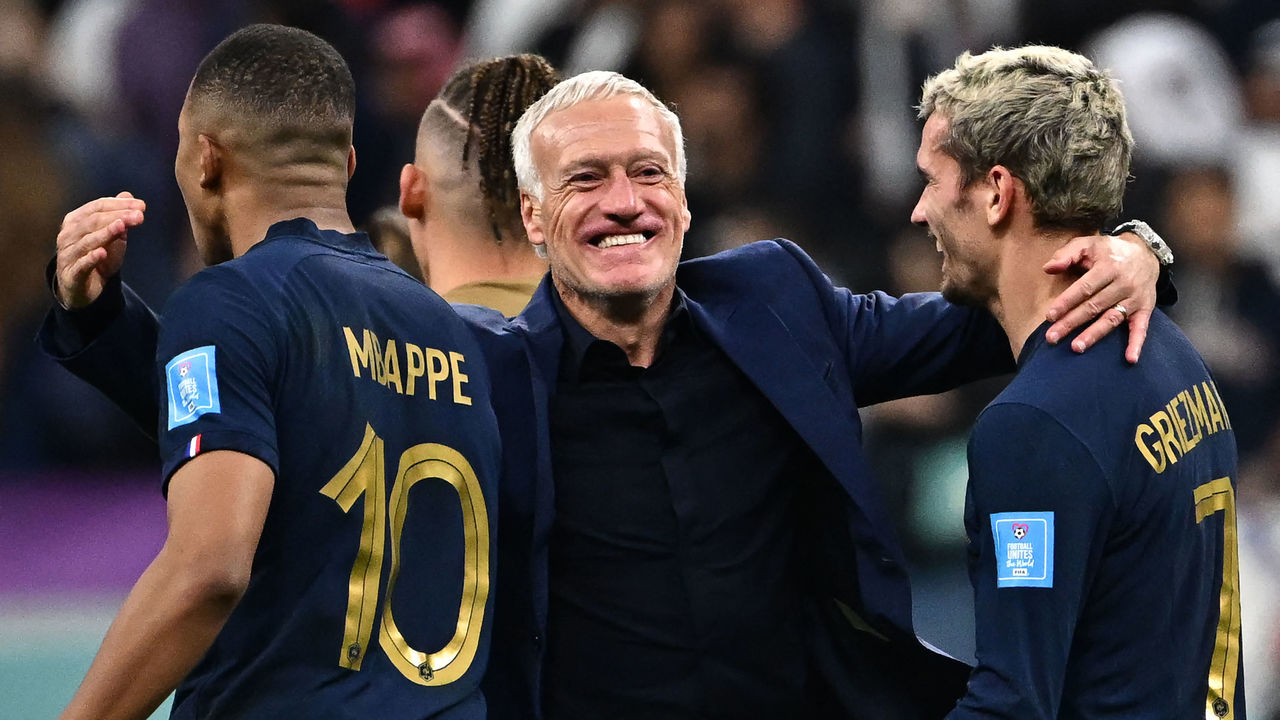 Players who expected to sit on the bench suddenly found themselves in the crucible of the World Cup. Adrien Rabiot – who refused to be a reserve four years ago – replaced Pogba in midfield. Theo Hernandez swapped places with his brother and made the left-back position his own. Ibrahima Konate exchanged minutes with Dayot Upamecano in central defense, and when he came in, as he did during Wednesday's semifinal win over Morocco, he carried the confidence of an everyday starter.
Deschamps made sure everyone in his squad felt important. He selected not only the most talented players available to him, but those who genuinely clicked. Even when Benzema ruled himself out of contention, Deschamps doubled down on the team at his disposal, choosing not to call up a replacement. Why would he disrupt the harmony he worked so hard to cultivate?
That vote of confidence gave his players a boost when they needed it. Back home, the French doubted their team's ability to defend their title, and those suspicions seemed to gain merit when Australia took a shocking 1-0 lead in the opening round of the group stage. Even though Les Bleus came back to win 4-1, critics still lamented their reliance on Mbappe, as if a player of his speed and quality shouldn't have as much of the ball as possible.
But France kept its head. It kept the boobirds at bay. At times, the team struggled to play the swift counterattacking football that powered its run to the title in 2018, but it made most of its chances count. France didn't panic after losing an otherwise meaningless game to Tunisia. It kept its composure when England ratcheted up the tempo in the quarterfinals.
On Wednesday, Morocco pushed France to the very limit, showing more ambition with the ball than anyone had expected. But the French kept working for each other. Olivier Giroud took a break from scoring to win possession in midfield. Konate and Raphael Varane dove into tackles with pinpoint accuracy. Antoine Griezmann, France's handyman, passed out of his own 18-yard box without breaking a sweat.
It's true that France needed luck to get back to the final. Harry Kane missed a penalty that would've forced extra time, and a number of Moroccans wouldn't shoot when everyone implored them to just have a go.
But luck has always played a role in success. France just had to put itself in a position to succeed. That was the hardest part.
The post France's World Cup title defense once seemed unlikely. Now, it's near reality appeared first on UpsFootball.
Other Articles