The third installment of UEFA's Nations League is nearing completion after the group stage came to a thrilling end with Tuesday's slate of matches. Here's a look at how promotion, relegation, and the four spots in the Nations League finals were determined across the various tiers.
League A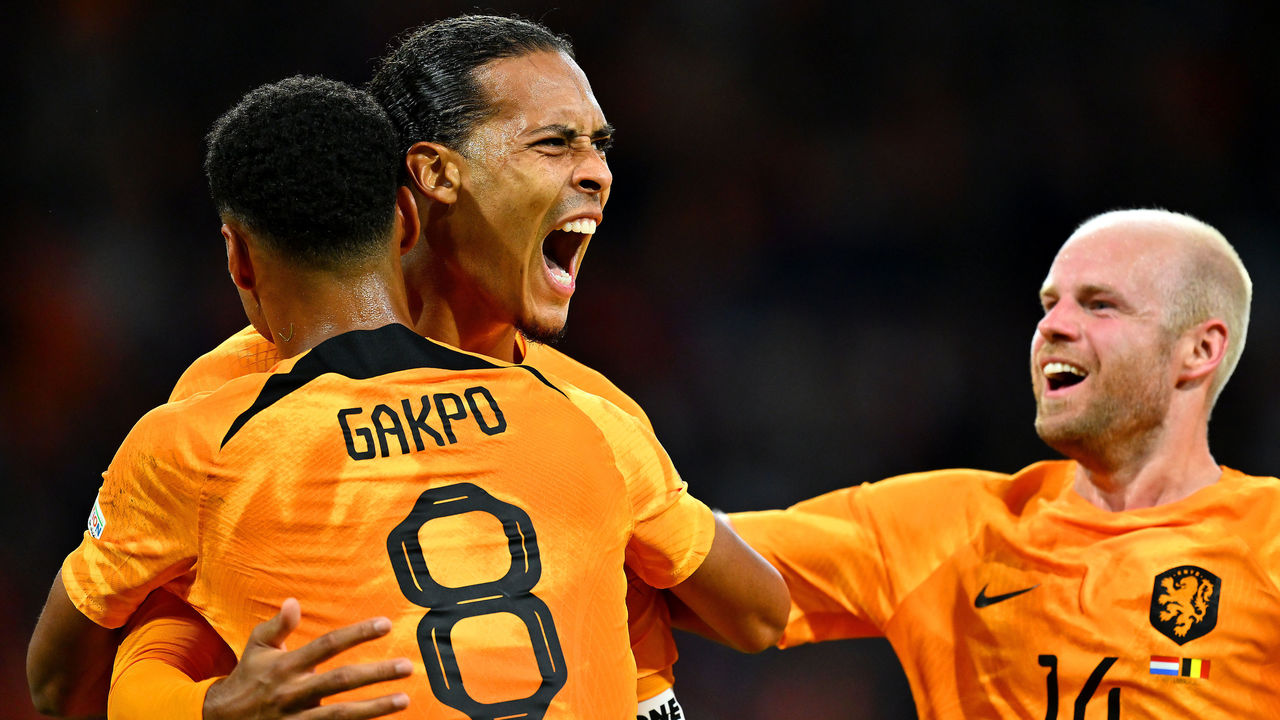 Qualified for the finals
Group A1: Croatia
Group A2: Spain
Group A3: Italy
Group A4: Netherlands
Spain left it very late, but after a largely sterile performance in Braga, Alvaro Morata was the hero. He scored an 88th-minute goal to give his country a 1-0 win over Portugal and a place in the Nations League final four. Portugal went into the contest leading Group A2 and needed to avoid defeat to advance. The home side was poised to do just that until Morata smashed the ball into a gaping net in the waning minutes to help Luis Enrique's team leapfrog its Iberian rival for top spot.
Elsewhere, Croatia topped a group that included reigning Nations League champion France. Italy, still stinging from the ignominy of missing a second consecutive World Cup, earned a small measure of consolation by beating Hungary on the last day of Group A3 play to seal a place in the finals. The Netherlands, meanwhile, outfought Belgium to win its quartet.
The Nations League semifinals will take place on June 14 and 15 of next year. The final is slated for June 18. A draw will be held to determine the matchups for the mini four-team tournament.
Relegated to League B
Group A1: Austria
Group A2: Czech Republic
Group A3: England
Group A4: Wales
With four tough groups, there was always a chance one of the proverbial European powers could fall into League B. England is the unlucky nation to suffer that fate this time around.
The Three Lions, who are heading into the World Cup on a six-match winless run, were officially relegated in their penultimate group match, a 1-0 defeat to Italy. Austria, the Czech Republic, and Wales join Gareth Southgate's squad. The four relegated teams combined for two group-stage wins between them. Austria and Wales go right back down to League B after earning promotion in the previous Nations League campaign.
League B
Promoted to League A
Group B1: Scotland
Group B2: Israel
Group B3: Bosnia and Herzegovina
Group B4: Serbia
Scotland sealed promotion on Tuesday by holding Ukraine to a goalless draw in Krakow. Scotland went into the match needing just a point and got the job done with a rigid defensive performance. Serbia, meanwhile, became one of the few teams – at the club or international level – to keep Erling Haaland off the scoresheet this season and in the process clinched promotion from Group B4 at the expense of Norway. Goals from Dusan Vlahovic and the red-hot Aleksandar Mitrovic – the latter netting his 50th for his country – gave Serbia a 2-0 victory in Oslo. Israel and Bosnia and Herzegovina previously secured their respective promotions.
Relegated to League C
Group B1: Armenia
Group B2: Russia*
Group B3: Romania
Group B4: Sweden
Armenia and Sweden went into Tuesday's action knowing they needed to win to avoid the drop. Neither mustered the necessary result, though. Armenia fell to Ireland, while a stunning goal from Benjamin Sesko helped Slovenia earn a 1-1 draw that officially sent the Swedes into League C. They join Romania, which, despite a comprehensive win in its final match Monday, couldn't overcome a slow start in Group B3.
As part of its ongoing ban from UEFA and FIFA competitions, Russia didn't participate in any matches and was automatically relegated to League C.
League C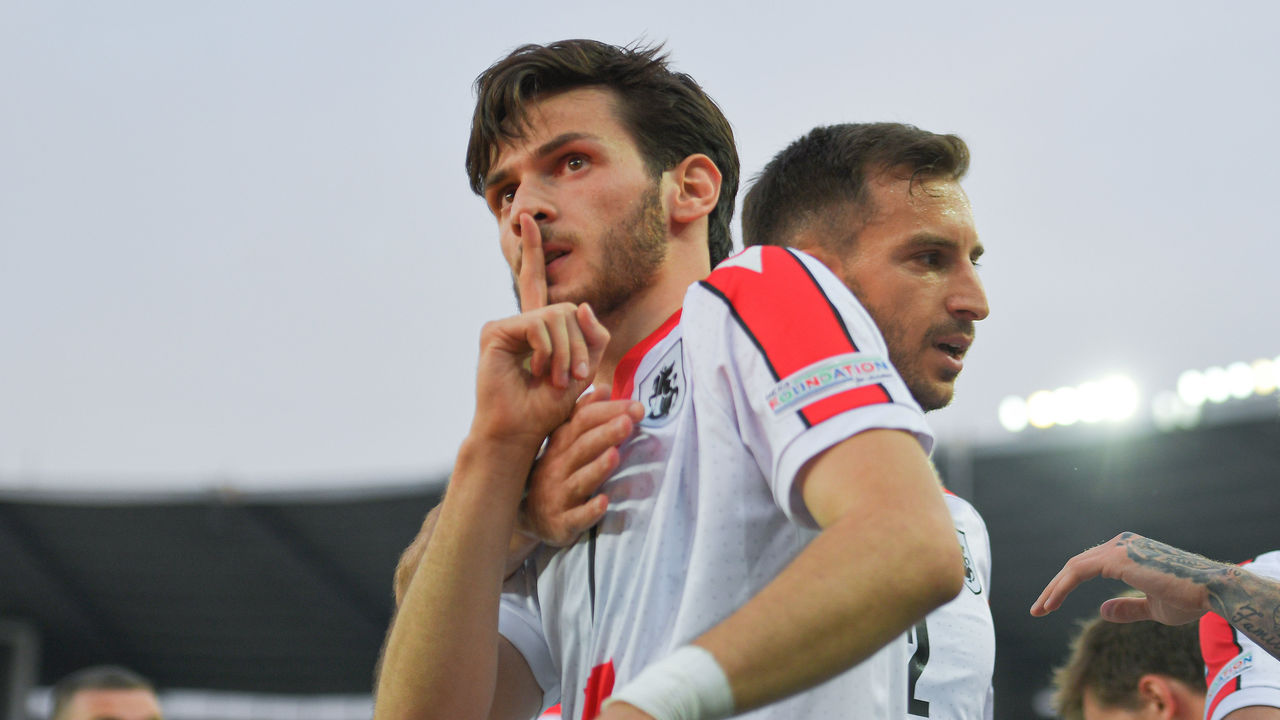 Promoted to League B
Group C1: Turkey
Group C2: Greece
Group C3: Kazakhstan
Group C4: Georgia
Turkey and Georgia have been two of the most dominant sides in this Nations League campaign. In winning their respective groups, the neighboring nations each crafted a plus-13 goal difference. No other squad in any group cracked double digits. They're joined by Greece, which made amends after narrowly missing out on promotion two years ago despite not losing a game, and Kazakhstan, arguably the surprise package of the competition.
Relegated to League D
With League D only being comprised of two groups, League C relegation works slightly differently than the other Nations League sections. Instead of automatic relegation, the four last-place finishers in League C will contest two-legged playoffs to determine which two teams stay up and who drops down into the lowest tier of the competition.
Lithuania, Cyprus, Belarus, and Gibraltar will be fighting to remain in League C when they partake in those playoff matches come March 2024. Based on their respective finishes in the overall table, Cyprus will take on Gibraltar, while Belarus meets Lithuania.
League D
Promoted to League C
Group D1: Latvia
Group D2: Estonia
Latvia makes the jump into League C after eking out first place over Moldova. The Latvians, led by five goals from Vladislavs Gutkovskis during the group stage, finished tied on 13 points with Moldova but earned promotion by virtue of their superior head-to-head record. Latvia's 4-2 win in Chisinau in June was the decisive result; Gutkovskis notched a brace in the win.
Estonia, meanwhile, compiled a perfect record while cruising to top spot in its group, which was comprised of only two other teams: Malta and San Marino.
The post Nations League review: Finalists, promotion, and relegation decided appeared first on UpsFootball.
Other Articles