The 2022 World Cup is in full swing. At the end of every matchday, we'll review the biggest talking points emanating from Qatar and break down all the action on the pitch. Below, we look back on Day 3 of the tournament.
Time to panic for Argentina?
It took just three days for the 2022 World Cup to deliver its first real stunner, as Argentina, one of the pre-tournament favorites, fell 2-1 to Saudi Arabia. The unlikely result instantly entered the pantheon of great World Cup upsets – a list that Argentina is, unfortunately, all too familiar with.
The Saudis produced a dogged, disciplined, and inspired defensive display. Their aggressive press and even more aggressive high line forced Argentina out of the rhythmic passing game that became its staple over an unbeaten 36-match run before the setback in Lusail. On the rare occasion the Saudis were able to get inside the Argentine penalty area, they took advantage, scoring with both of their shots on target. Salem Al-Dawsari's winning goal was a gorgeous curler befitting of the moment.
Argentina hadn't lost a match in 1,238 days going into Tuesday's encounter. Only one team in history – Spain in 2010 – lost its opening game and still went on to win the World Cup. Since 1998, only 11% of teams to lose their first game recovered to even reach the knockout stage. Grim numbers.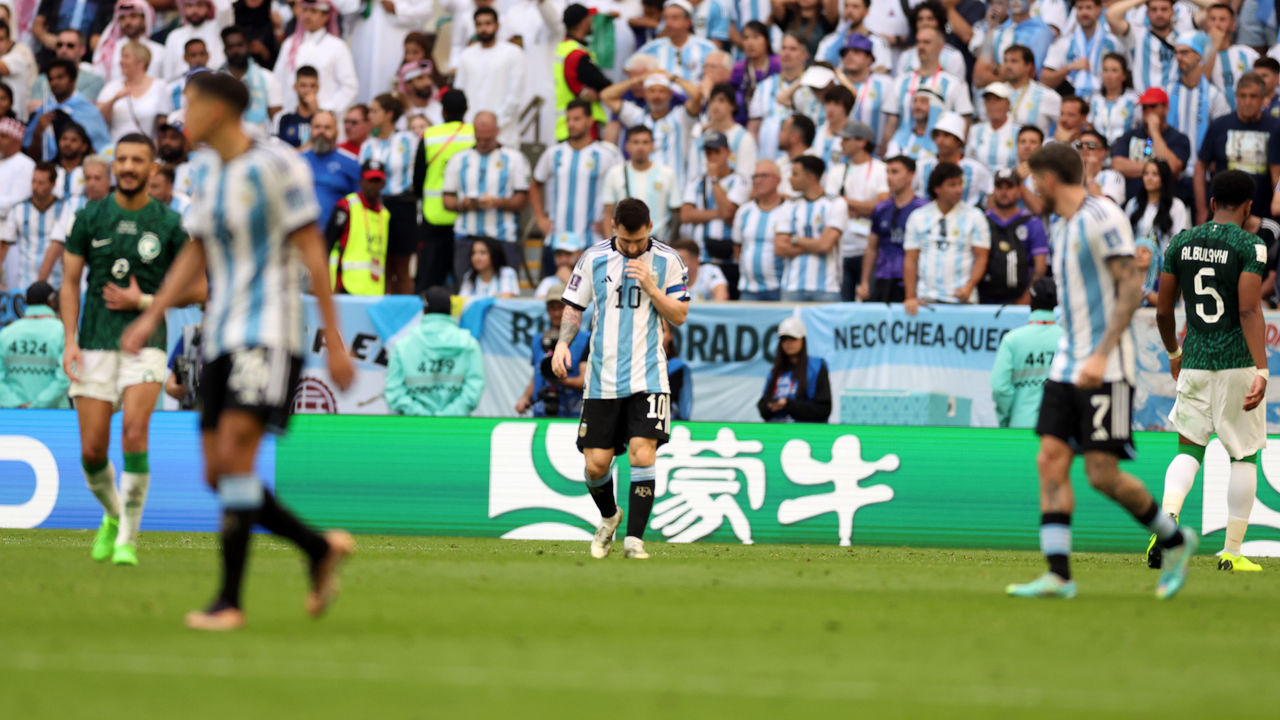 Argentina was poor. Lionel Messi, who opened the scoring with an early penalty, had to drop too deep to get on the ball, and the slick passing combinations that have become so common under Lionel Scaloni largely evaporated. The Albiceleste's attacks were consistently filtered out wide, where Saudi defenders could snap into tackles quickly.
But it wasn't all bad for Argentina.
Were it not for a combined matter of a few inches, Argentina could've been 4-0 up at one point – over a 13-minute span in the first half after Messi's penalty, Argentina had three goals ruled out for tight offside decisions. A game of inches, indeed.
And, as mentioned, the South American champion only conceded two shots on target. Sometimes luck simply isn't on your side. Argentina needs to be much better in its remaining group matches against Mexico and Poland, but it's not time to sound the alarm just yet.
Goalless draws can be entertaining!
Who says a goalless draw can't be fun?
Tuesday's tilt between Denmark and Tunisia didn't produce an upset like the preceding game, but the first goalless draw at the Qatar World Cup might just be one of the tournament's best matches so far.
From the opening whistle, Tunisia's intensity was unmistakable. Midfielder Aissa Laidouni was an imposing figure throughout the game and set the tone inside the first minute with a sliding tackle on Christian Eriksen that he celebrated like a last-minute winner.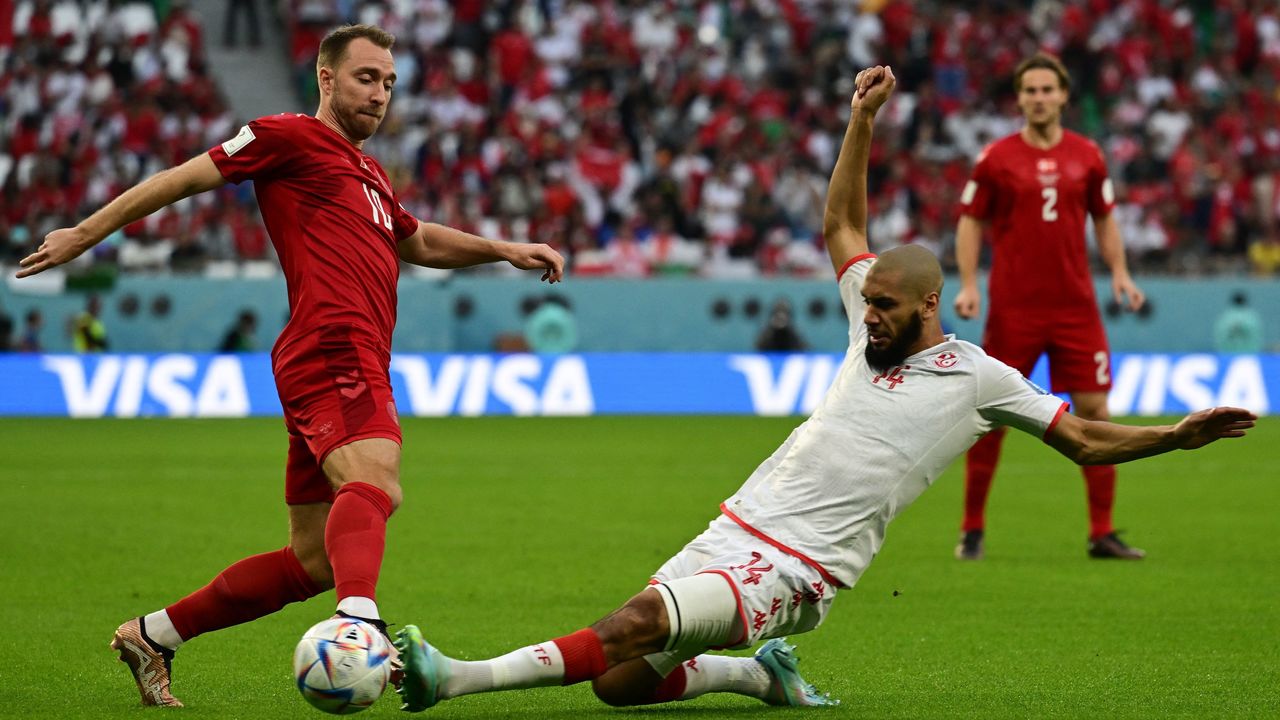 The north African nation employed an attractive brand of football, too. Tunisia pressed positively and was technically sound in a match that produced numerous scoring opportunities at each end. Denmark had several chances, including Andreas Cornelius' incomprehensible goal-line miss and a late penalty shout denied by VAR. In total, the two teams produced 24 shots. Despite getting more efforts on target (five), the European side appeared unsettled against its ambitious opponents.
While the result is a blow for Denmark ahead of its next Group D clash with World Cup holder France, Tunisia will be filled with confidence against Australia after picking up a largely unexpected, but deserved, point.
Ochoa needs help from teammates
Guillermo Ochoa is one of the most recognizable players at the World Cup. That's not because he's played in five of them, or because of his thick headband and typically curly hair. He's known the world over because of the many game-defining saves he's made on football's biggest stage. Time and again, Ochoa, who's now 37, has bailed out Mexico – or at least offered resistance to inevitable defeat.
So of course he made another crucial stop Tuesday to give his country hope. Diving to his left to deny Robert Lewandowski's penalty kick, Ochoa ensured Mexico would walk away from its opening match in Qatar with a point. Mexico deserved something from the game – it dominated possession and outshot Poland 11-6 – but ultimately fell back on its crutch to avoid a damaging setback.
Ochoa pulled off similar heroics in 2014, making eight saves in a goalless draw with host nation Brazil and another six stops in an eventual 2-1 loss to the Netherlands. Ochoa put up another eight saves against Brazil in the round of 16 of the 2018 World Cup to give his country a chance.

But Mexico couldn't repay Ochoa in either of those World Cups. He's done his part for the national team, laying the foundation for his teammates to produce upsets. Now, Mexico will need to win at least one of its remaining games in Group C to advance, and that'll require goals on the opposite end of the pitch. It's up to Ochoa's attacking teammates to finally reciprocate and give this folk hero the send-off he deserves.
Battle-hardened France passes first test
France hadn't even played 15 minutes of football at this injury-riddled World Cup when Lucas Hernandez limped off the pitch with what looked like a serious knee problem. The injury left Les Bleus short yet another player, and as he writhed in pain, Australia took a shocking first-half lead.
Some teams would've folded then and there. But few teams possess France's depth.
It quickly came to good use.
Theo Hernandez, brother of Lucas, came on to make his World Cup debut and overcame some early jitters to set up the equalizer. Thirty-six-year-old Olivier Giroud starred in the absence of Ballon d'Or winner Karim Benzema, scoring twice to tie Thierry Henry as France's record scorer. Aurelien Tchouameni and Antoine Griezmann covered for N'Golo Kante and Paul Pogba in midfield.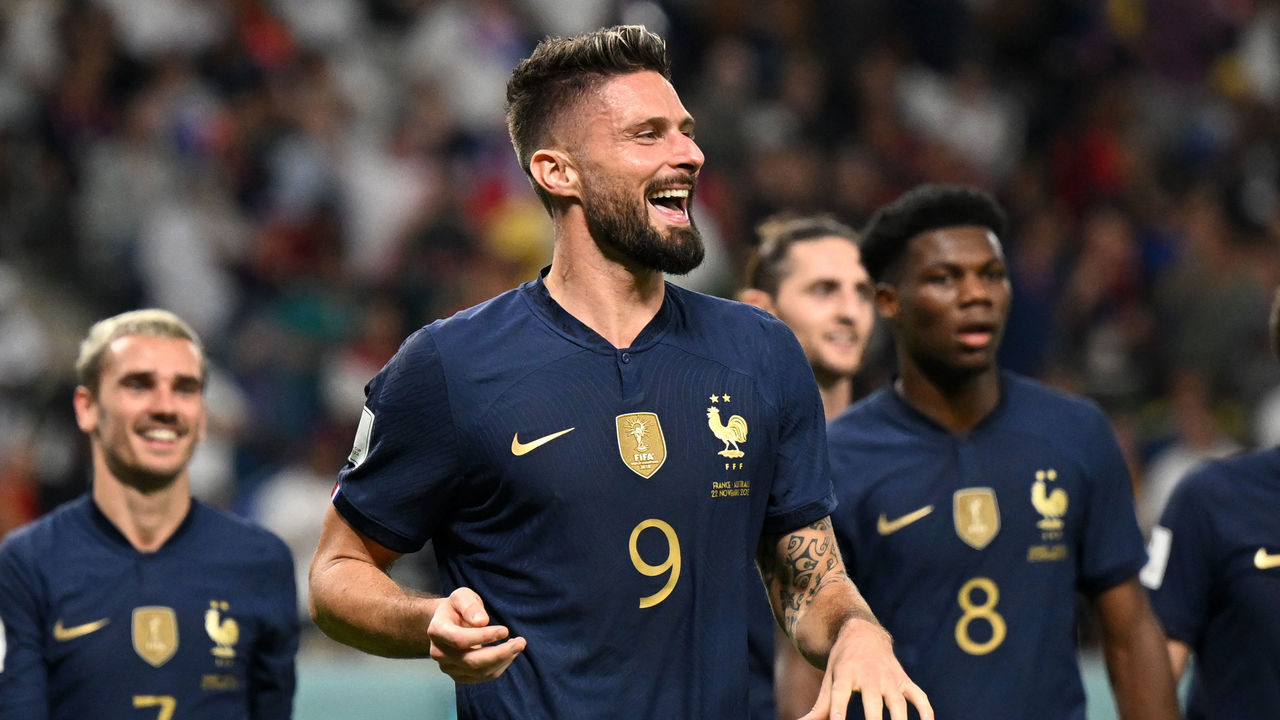 France barely looked like a team missing eight of its protagonists. And once it found its mojo, it went full speed, winning 4-1 with 23 shots and 63% possession.
Australia may be disappointed with itself. But the match said less about the Socceroos' capabilities and more about the lasting strength of Didier Deschamps' reigning World Cup champions. The majority of the players who started Tuesday wouldn't have played if Deschamps' usual starters were available: Ibrahima Konate was making his third career appearance for France, and Adrien Rabiot wasn't even part of the team that won the 2018 World Cup. Both played well Tuesday and should start against Denmark on Saturday.
France simply has enough talent to not only top Group D, but also to at least put forward a credible title defense. Reports of France's demise have indeed been greatly exaggerated.
Quick free-kicks
Give Renard his flowers
Few managers at the World Cup are as decorated as Herve Renard. The Frenchman, 54, captured the Africa Cup of Nations title with Zambia in 2012. He repeated that feat with the Ivory Coast three years later. Now he's authored one of the great upsets in World Cup history. Renard, the debonair tactician with a Bond villain aesthetic, was rewarded for what many claimed to be an overly aggressive approach against Argentina. His team played with a brave high line that forced Argentina to resort to hopeful balls over the top, and he trusted his players to execute an offside trap to perfection – they did, by a matter of inches. Further forward, there was ferocious pressing and complete dedication from his players, who flung themselves into tackles for over 90 minutes, particularly after they took their stunning 2-1 lead. Renard, once fired by Cambridge United, is getting the respect he deserves on the biggest stage. Saudi Arabia will make Wednesday a national holiday to commemorate the momentous win. At this rate, a statue for Renard could follow.
Well, this is awkward …
Earlier this year, Messi signed a lucrative deal to become a tourism ambassador for Saudi Arabia. Oops.
Distraction eliminated for Portugal?
Following his explosive and incendiary interview with Piers Morgan, Cristiano Ronaldo surely knew this would be the outcome. If anything, he likely made up his mind before lambasting Manchester United, Erik ten Hag, and the club's ownership. Perhaps that was the point of it all. Aside from the puzzling question of his club future – seriously, where can he go next? – the more immediate thought for Ronaldo and Portugal is the freeing impact this could have on the 37-year-old over the next month in Qatar. There appeared to be some frostiness between Ronaldo and now-former club teammate Bruno Fernandes upon their arrival at Portugal camp for the tournament. Does that disappear now? Does Ronaldo – who, despite his stature within the game, is technically playing for a new contract as a free agent – have extra motivation? The dynamic is fascinating and worth watching closely.
Lukaku to miss time
Belgium will be without Romelu Lukaku for its opening match against Canada, manager Roberto Martinez confirmed Tuesday. The Inter Milan striker has been working feverishly to recover from a hamstring injury suffered last month. "He had a very good session yesterday, not with a group, but is progressing in a steady way," Martinez said. "We haven't got a timeline. I wouldn't be able to tell if he's going to be the second game or the third game. If I follow the medical advice, at this point it would be the third game. If I follow how the player feels, probably we've got a chance for the second game." Michy Batshuayi will likely take Lukaku's place in the starting lineup in the meantime.
Lewandowski's wait continues
Will Lewandowski ever be able to celebrate a World Cup goal? He's running out of time. The Polish talisman, typically so prolific for both club and country, wasted a golden opportunity Tuesday, squandering a penalty in the goalless draw against Mexico. His side-footed effort was surprisingly feeble for someone usually so assured and decisive inside the area. Ochoa's diving save also signaled the third consecutive spot kick Poland failed to convert at the World Cup, with Lewandowski joining compatriots Kazimierz Deyna (1978) and Maciej Zurawski (2002) in the history book.
Bittersweet sub for Theo
Your first World Cup appearance should be a special moment. It's something any footballer lucky enough to experience will remember forever. Theo Hernandez will feel somewhat conflicted about his tournament debut, though, after it came at the expense of his older brother, Lucas. The elder Hernandez, a standout performer who was crucial in helping France capture the title four years ago, took up his familiar role at left-back back for Deschamps in Tuesday's match against Australia. His involvement was cruelly cut short, though, after he suffered what appeared to be a serious noncontact knee injury early in the contest. Theo, a left-back for AC Milan, took his brother's place and was at his rampaging best, getting forward and whipping in dangerous crosses at every opportunity. A variety of emotions emanating from the Hernandez household right now, to be sure.
Stat of the day
No Benzema, no problem for France?
Tweet of the day
It's Ochoa's time to shine, baby.
The post World Cup roundup, Day 3: Argentina humbled, France passes 1st test appeared first on UpsFootball.
Other Articles